Ring Joints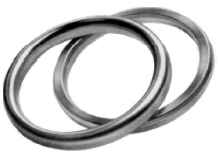 Ring Joint Gaskets, Flange Gaskets


Features:

- Manufactured on CNC machines in accordance with specific tolerances.

- For use with high pressure and high temperature applications.

- Available in Combination Gasket or Split Gasket.

- BX and RX types are manufactured with complex beveled edge sections (used when wellhead pressures exceed 700 bar).

- R type (oval and octagonal) solid sections to fit standard ring joint flanges with trapezoidal grooves.

- Compliant with API spec 6A requirements and ASME B16.20 standard (where applicable).