Integral Fittings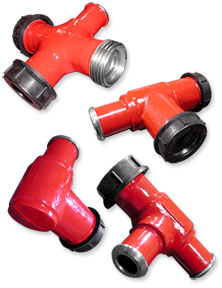 Integral Fittings


Ell Fittings
Lateral Fittings
Tee Fittings
Cross Fittings
Wye Fittings


- Various sizes available (2", 3", etc.)

- Designed and tested for 15,000 p.s.i. nscwp.

- For use with sour gas and standard service.

- Heat-treated to enhance low temperature impact properties and tensile strength.

- Extra High-Pressure Integral Fittings

- Manufactured from forged alloy steel with special chemical properties.